I absolutely love Thrift Store shopping for Cameras — it's a total rush to find unique 35mm film cameras. It's a true challenge to be lucky enough to hunt down a working camera in decent condition.  Depending on what exactly it is, eg. a Kodak Brownie, I still may buy it as a decorative prop or conversation starter even if it doesn't fully function.
On my last Thrift Shopping hunt in San Antonio, I ran across a camera I'd never seen before and nicknamed it the "MYSTERY Camera." It came in the most plain box I'd ever seen. No labels, no branding … it just said "35mm Camera." Super strange, right!? I tested the shutter and worked, so for $5, I had to buy it! 
This would probably be a good place to add that I didn't bring a camera on this 10+ day Texas trip, which is pretty rare. I figured if nothing else, I could pick up a few cheap rolls of Fujifilm Superia X-TRA 400. Fuji 400 is pretty inexpensive and fairly widely available from most convince stores, and the results are pretty good.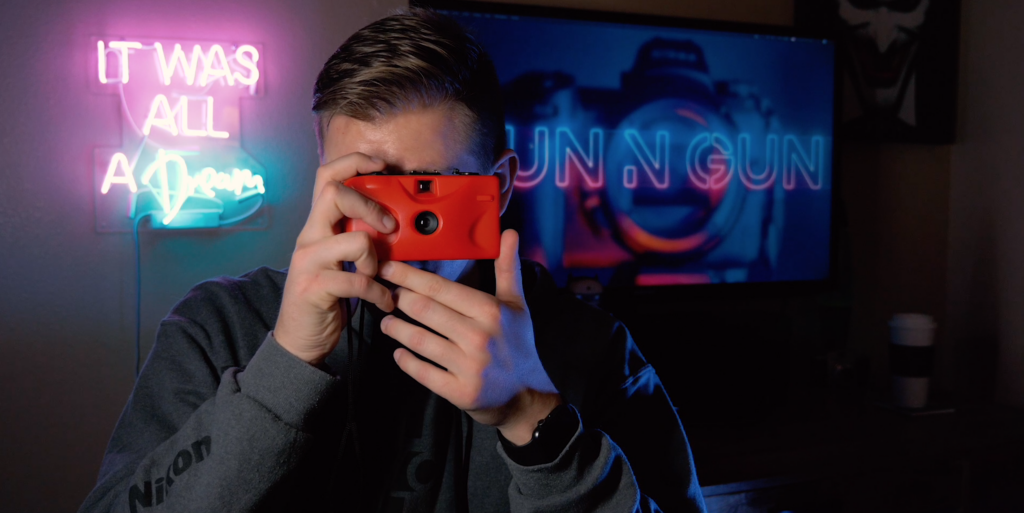 I ended up putting 3 rolls of that Fuji 400 through the Mystery camera. The first roll was a massive F@#%-up. The camera never advanced past the 1st frame, so I'd shot probably 40-50 shots without advancing. If you know how film works, you know that'd leave me with only one single nuclear-explosion-white over-exposed frame. 
After realizing this, I advanced the 2nd roll a bit further before closing this puppy up. I shot a total of 3 rolls (including the dud roll) between Texas and Colorado. To be honest, I'm super surprised ANY of the shots turned out. They're not great by any means, being that they were shot through a plastic lens, but I am super pleased with the quality, all things considered. About 80% of the shots turned out and the rest were just too far under exposed. You can check out a couple of the shots I had developed and scanned with my Nikon Z6, below.
To this day, I still have no idea what this Mystery Camera is! I've searched the internet, only to find a single clue but I'm not sure it's right. But that's okay with me, I think it's a neat little disposable-quality reusable 35mm camera. It was absolutely worth the fiver just to play with for a month or two. (I still have it, it's just become more of a desk prop now) That's all folks!
1 Feb. 2020 UPDATE: Thanks to Sweet Lou Photography, (his channel), Jacob Carlson (his channel) and Birgit Buchart from Lomography, I found out that this camera is an unbranded Argus! 
A few shots from the "Mystery Camera"