The 35mm Film Swap
Four rolls of film and 288 exposures more than 1,700 miles apart. A snapshot of the 35mm Film Swap collaboration between Sweet Lou Photography and Run N Gun Photography. But, what exactly is a film swap?
In short, I shoot a roll of film, then mail the undeveloped roll to another photographer. They load that roll and shoot a set of exposures directly over mine, creating a double exposure. Then that photographer develops the film to see what unique images were captured and created.
For this project I sent Lou exposed rolls of Cinestill 800T and of Ilford XP2 Super 400. In return, he sent me back a roll of Ilford XP2 and Doublefilm Apollo 200. To see all the photos, be sure to check out by Lou's and my videos. I'll also have some high resolution scans of my favorite shots below.
Double Vision Episode 4: Film Swap with Run N Gun
Don't forget to check out Lou's channel for some fun, experimental analog photography and camera reviews.
35mm Film Swap: Ilford XP2 & Doublefilm Apollo with Sweet Lou Photography
Film Swap Round 1 Archives
As you saw in Lou and my videos, this is actually our 2nd attempt at a 35mm film swap. So many things can go wrong when a roll of film is put in and pulled out of multiple cameras, exposed to light multiple times AND shipped across the country. And while our first attempt wasn't perfect, I do have some honorable mentions that I'd like to share. And it maybe of note, that of my favorite shots from Round 1, all were taken on Cinestill 800T… just sayin'!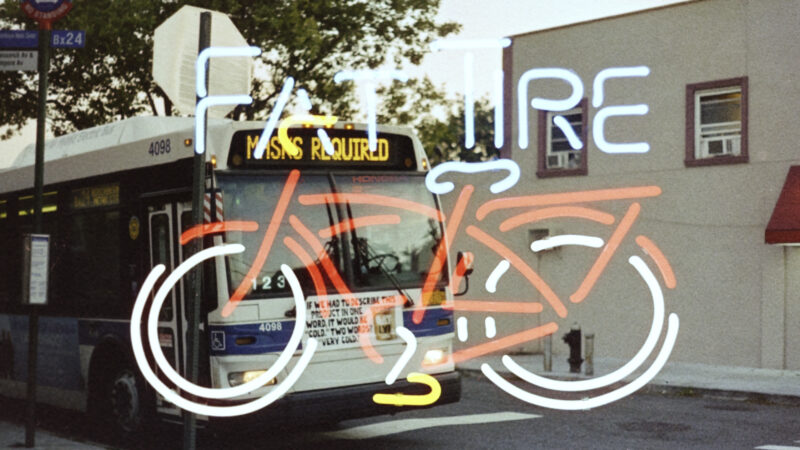 Sometimes double exposures work, and sometimes they don't — it comes down to careful planning or just pure luck.  In the case of a film swap, it's typically the later option.
I really love how this bus and neon sign lined up. Facing opposite directions, both forms of transportation, which I thought was a fun coincidence. (Also the bus is electric, so both forms of "green" transportation!)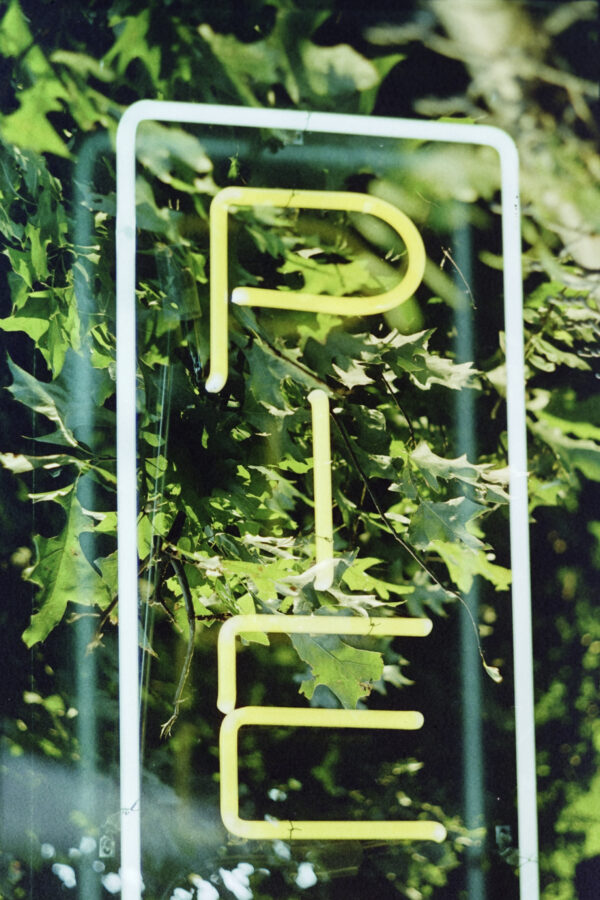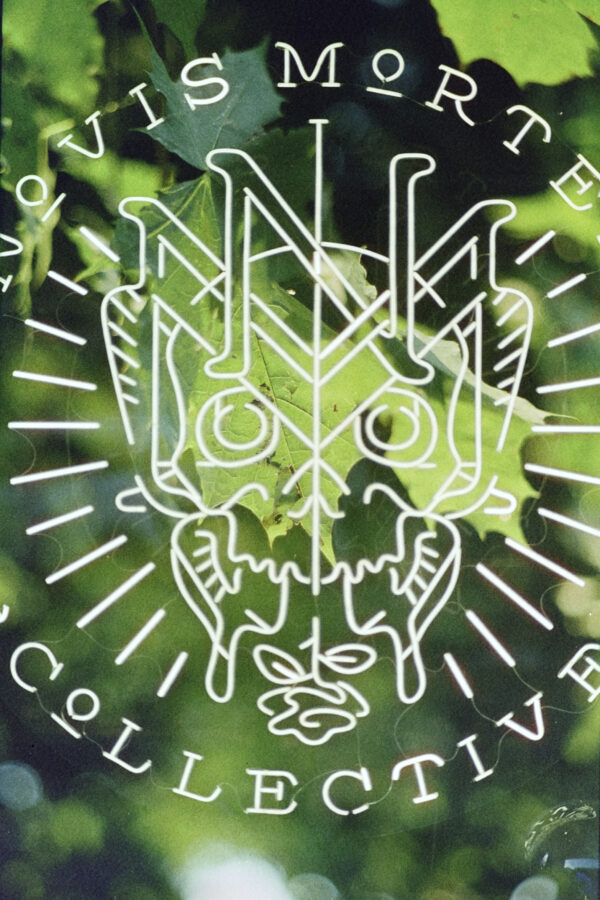 It's funny that for these exposures of Leaves and Neon Signs, Lou and I had the same idea. If you have a cool shot, take multiple exposures for a better chance of it lining up with something cool in your next set of exposures. This happens to have led to 6 or 7 nearly identical shots of leaves and neon signs. I think it was just meant to be.
35mm Film Swap 2 Sweet Lou vs. Run N Gun
The real film swap, what you've all been waiting to see. A quick PRO TIP if you plan on shooting your own double exposures: shoot the roll at least 1 stop under exposed, both times.
As you'll see in the examples below, Lou shot under exposed and my shots were a bit over exposed. Unfortunately, this led to his frames being nearly invisible in our film swap. It probably also didn't help that his scenes were darker, and mine were being blasted with golden hour light.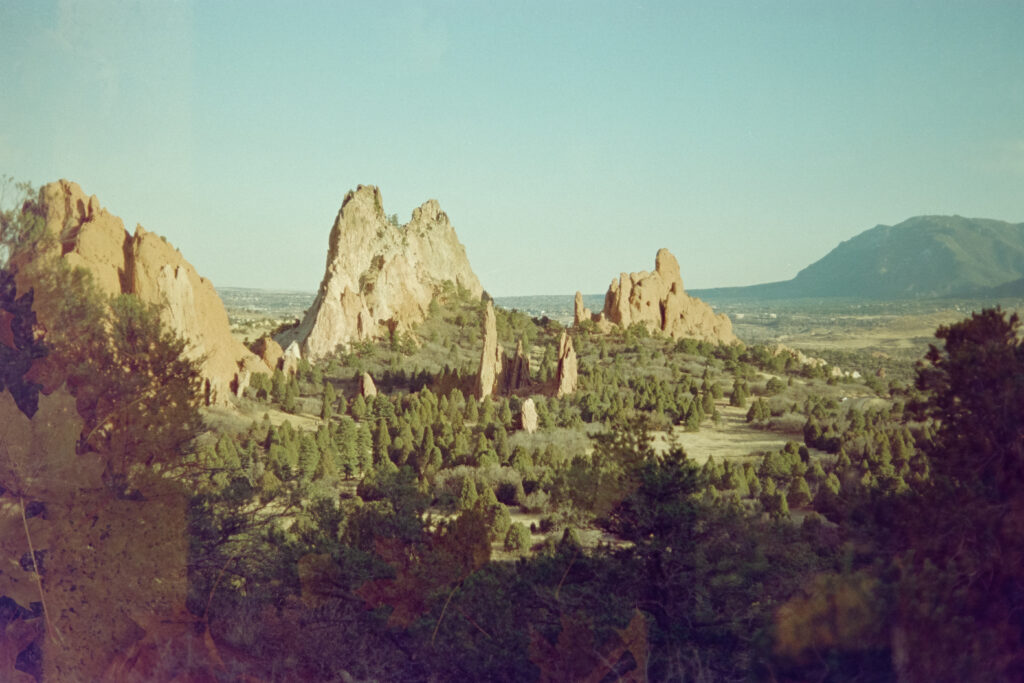 While the rock faces of Garden of the Gods park were drowning in picture-perfect light, the shadows gave the opportunity for Lou's exposure to peak out. Sometimes subtle is best. When it comes to double exposures, I think the best results come when the two images complement each other — make each other stronger.
Because in some double exposures, the frames compete and detract from one another. This  is what I was referring to when photos just "work" together in terms of composition, subject and brightness.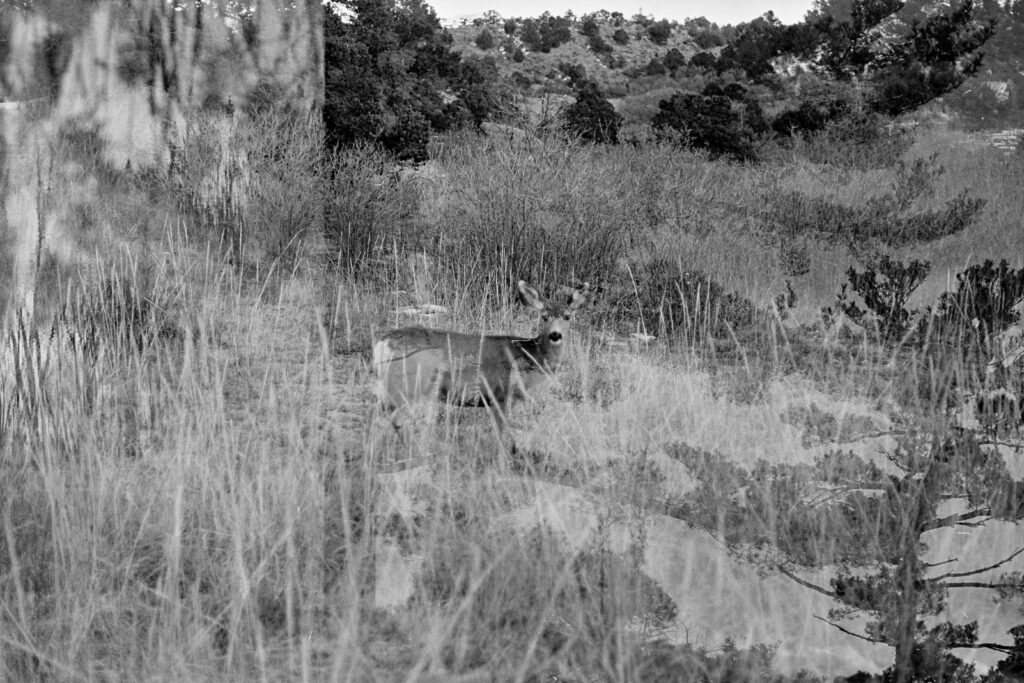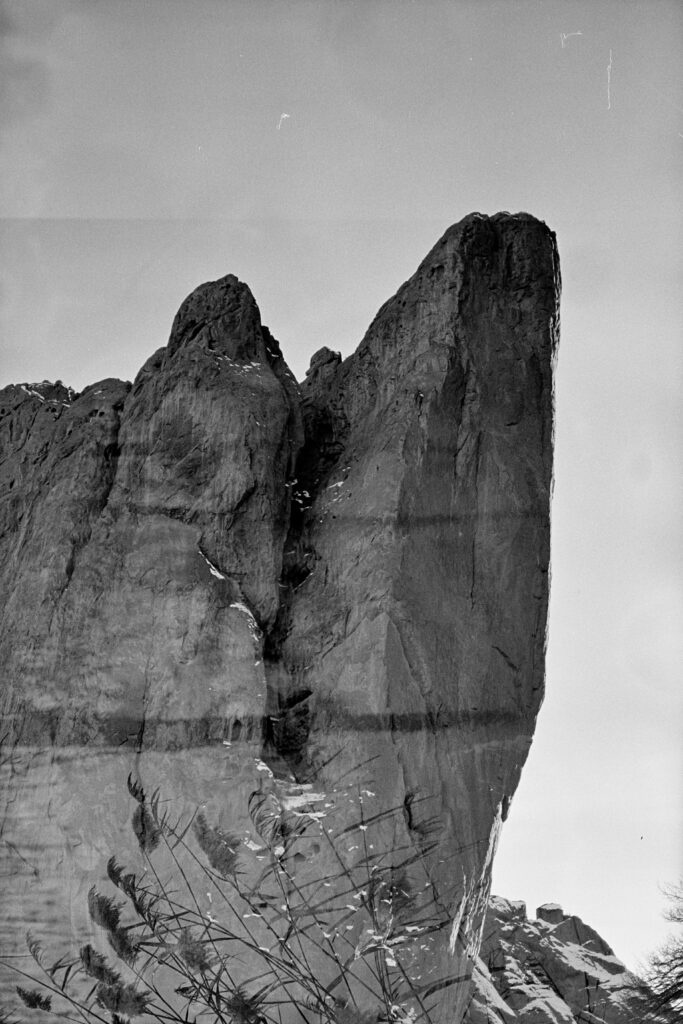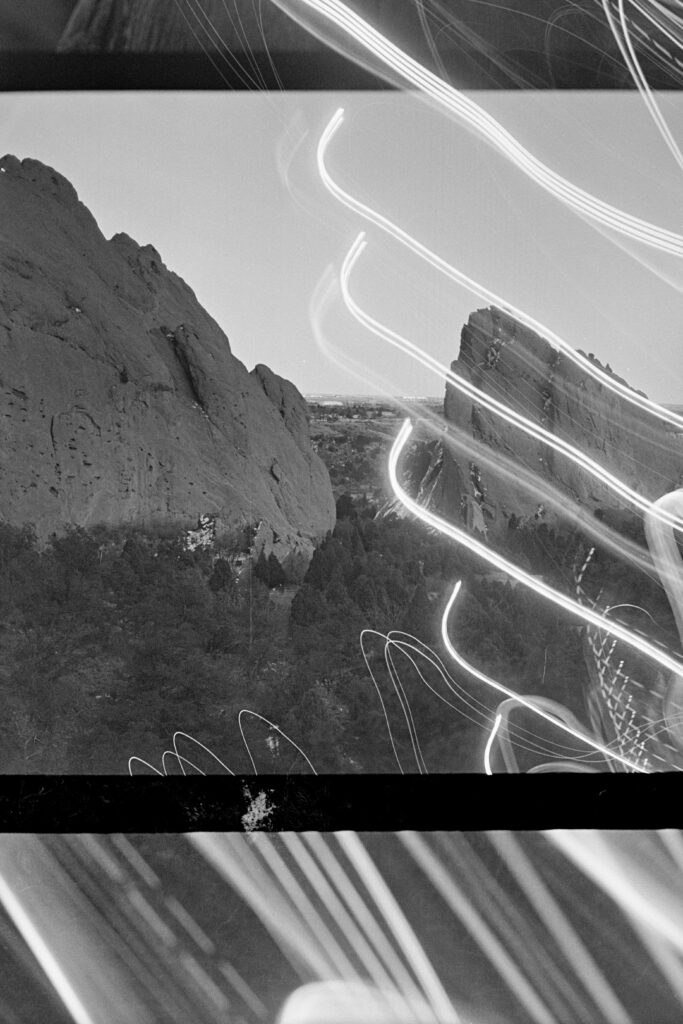 Standing in my bathroom after developing the Ilford XP2, I was amazed at how cool the last shots on the roll looked. Lou had the awesome idea to paint some light trails in the final frames of his roll. They paired nicely with my blue hour shots of the rocks. It felt like a strange alien invasion of a martian rock formation.
35mm Film Swap Final Thoughts
Give it a try! A film swap is a fun, collaborative art project that, if nothing else, will give you a few laughs among friends. So if you know another film photographer, pick up some inexpensive rolls of film (if you can find some today) and shoot away! I can't recommend this collaboration enough! 
I think Lou and I will probably try Film Swap 3 sometime in the future. Third time is the charm, or something like that.